Thursday afternoon mini-workshop
Skill Level
Intermediate. Participants should be comfortable with cast on, bind off, knit stitch, purl stitch, basic increase, basic decrease.
Class Length
3 hours
Class Description
In this workshop we will knit a medallion that was inspired by the state stone of Michigan, the Petoskey stone. The medallions are flat circles, knitted from the center out. When a series of these medallions are crocheted together, you can change the circular shape to 4-, 5-, 6-, or more-sided pieces. We will cover a circular crochet cast-on, how to knit circularly with 2 circular needles, 2-stitch cable patterns, and crocheting medallions together. With this approach, you can make scarves, afghans, hats, pillows, and more.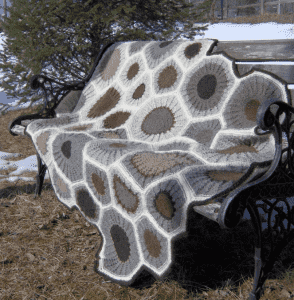 Instructor Biography
Amy's formal training was in modern dance, kinesiology, and physiology. She then taught physical therapy students about critical inquiry, evidence-based practice, and research design. A dozen years ago she left the academic life to pursue fibers arts. Now she teaches spinning and knitting at venues across the country and is well known for her animated and engaging teaching style. She has published articles in Spin-Off and PLY Magazine. Her art and science backgrounds give her a keen understanding of learning movement skills, composition, pattern recognition, and systematic exploration. The result is her focus on spinning and knitting technique, texture, three-dimensional structure, and knit designs that exploit handspinning techniques. You can find out more about her work on her website, http://www.stonesockfibers.com and on her blog, http://stonesockblog.blogspot.com
Fees
Registration: $40
Materials: $12, includes samples for examination, additional yarns, notebook with handouts including written instructions for 2 versions of the Petoskey stone medallion, sundry supplies.
Students to Bring
100 yards or so of yarn (1 or more colors)
2 circular knitting needles of the same size (but can be of different lengths) appropriate for the yarn
a crochet hook similar in size to the needles
a darning needle