Connie Lippert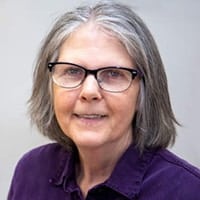 Connie Lippert weaves tapestries using the wedge weave technique and yarns hand-dyed with natural materials.
Her work has been exhibited in 30 states. She has received 4 artist grants from the South Carolina Arts Commission. Her work is represented in museum, corporate, academic and private collections and has been widely published. In 2020, her work was included in The Art is the Cloth by Micala Sidore and in The Art of Tapestry Weaving by Rebecca Mezoff.
She has taught wedge weave workshops and given seminars in California, New York, Michigan, Colorado, New Mexico, Georgia, Florida, New Jersey, South Carolina, North Carolina, Massachusetts and Wisconsin.
Connie is represented by Blue Spiral 1 in Asheville, North Carolina.