2024 is the 80th Anniversary of the Florida Tropical Weavers Guild! This year, for the first time, we are offering an opportunity to advertise on our website, available even if you are not vending in person.
If you are interested in Advertising, please complete the form at the bottom of the page.
Click here to scroll down to the Terms and Conditions for Advertising.
Post a full color ad on our website for $50. Those vending in-person receive a discounted rate. Please see the Vendor Page for more information on pricing.
Ads are viewed through a carousel display on the Home Page, just under the main image at the top of the page, and on all Event pages just above the footer, with the exception of the Vendor Page.
In addition, your ad will be posted on a separate, static Supporters page. The artwork for all Vendors and Advertisers will be posted on the Supporters page, and the carousel display will not appear on the Supporters page.
In both the carousel ad and on the Supporters page, your artwork will link directly to the home page of your website.
Ads run from October 1, 2023 through June 30, 2024.
JPG file format only, 72 dpi preferred. Artwork must be 175 pixels high by 225 pixels wide (see the sample below, demonstrating the size as it will appear on screen). Please view the FTWG Media Submission Guidelines for general information on submitting artwork on our site.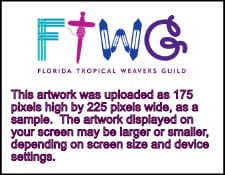 Ads should be fiber related.
Advertising Terms and Conditions
Advertising Process
The Florida Tropical Weavers Guild must approve all artwork, sponsors, and advertisers. FTWG reserves the right at any time to reject advertising material which fails to meet the guidelines described herein, which may be deemed objectionable, which compromises a current relationship with an existing stakeholder, or which the FTWG Board finds, in its sole discretion, to be incompatible with our event or policies.
FTWG will endeavor to review and approve or deny applications within fourteen (14) days of receipt of the application, but this may not be possible at all times, due to scheduling challenges, technological issues, or acts of God (eg, hurricanes impacting our homes).
Once artwork and application are approved, FTWG will send Purchaser an invoice.
FTWG will post the ad on our site within seven (7) days of receipt of payment.
Placement
FTWG reserves the right to display advertising in any order. Format and position of advertisement is at the discretion of FTWG. The position or list order of advertisements is not guaranteed nor will a dispute of placement dissolve contract obligations.
Materials Deadline
Purchaser shall provide all advertisement materials (artwork, photos, text, logos, clip art, background copy, etc) to permit FTWG the authority to publish all materials. FTWG will not create any advertising artwork for sponsors, advertisers, or vendors.
In order to ensure publication on the website by October 1, 2023, FTWG must receive artwork from purchaser by September 24, 2023. If artwork is not received by September 24, 2023, FTWG will add the artwork to our website on a rolling basis, as described in the Process section above.
Payment
Upon receipt of the invoice, Purchaser will remit payment within fourteen (14) days. Purchaser recognizes that the advertising and sponsorship rates are flat rates that will not be prorated for any reason.
Nonrefundable
Advertising is nonrefundable.
Copy Acceptance
Any loss or expense claims or suits based upon the subject matter and / or advertisement content is at the expense of the Purchaser. Purchaser assumes liability for all content of advertisement and the responsibility for any and all claims arising therefore. In no event shall FTWG's liability to Purchaser for all claims of any kind of loss or damage arising out of or resulting from any error or omission exceed the total amount paid for the advertisement or sponsorship.
Copyright and Trademarks
Purchaser assumes sole responsibility for the protection of its copyright in any writing, pictorial illustration, maps, etc. included in its advertisement. Purchaser warrants that they have the authority to use any trademark, trade name, service mark, name, portrait, picture, or illustration in the manner and in accordance with the ad material submitted. Purchaser agrees to defend, indemnify, and hold FTWG harmless from and against any and all liability, claims, demands, suits, or causes of action, including attorney fees incurred by FTWG in the defense thereof, arising out of the publication of any copyright and trademark infractions in accordance with this contract agreement.
Additional Terms Incorporated by Reference
The following existing policies and terms are incorporated by reference: Terms of Use, Privacy Policy, Event Policies, Code of Conduct, and Media Submission Guidelines.

This includes, but is not limited to, Disclaimer of Warranties, Limitation of Liability, Indemnification, Governing Law, and Jurisdiction clauses.
Written Document
You may preserve these Advertising Terms and Conditions in written form by printing them for your records, and you waive any other requirement that these Terms be evidenced by a written document.
Waiver and Severability of Terms
The failure of FTWG to exercise or enforce any right or provision of these Terms or any agreement shall not constitute a waiver of such right or provision.
If any provision of these Terms is found by a court of competent jurisdiction to be invalid, the parties nevertheless agree that the court should endeavor to give effect to the parties' intentions as reflected in the provision, and the other provisions of the Terms shall remain in full force and effect.
Section Headings
Section headings are included in the Terms for convenience only. They are not to be considered a part of the Terms and are not intended to be a full and accurate description of the contents hereof.
Complete Agreement
These Advertising Terms and Conditions, along with the other policies incorporated herein by reference constitute the entire agreement between you and FTWG with respect to advertising, and supersede all discussions, communications, conversations, and agreements concerning the subject matter hereof.
Advertising Application Form
If you plan to apply for an in-person vending space, please do not use this form for Advertising. In order to receive the discounted rate for accepted in-person vendors, select your Advertising option on the Vendor Booth Application form.