Since 1997, the Florida Tropical Weavers Guild Conference has been held at Lake Yale Baptist Conference Center. To learn more about LYBCC, visit their website.
The FTWG Conference uses only a portion of the entire campus. Other groups may be using other parts of the campus. All groups eat together in the cafeteria at the same time.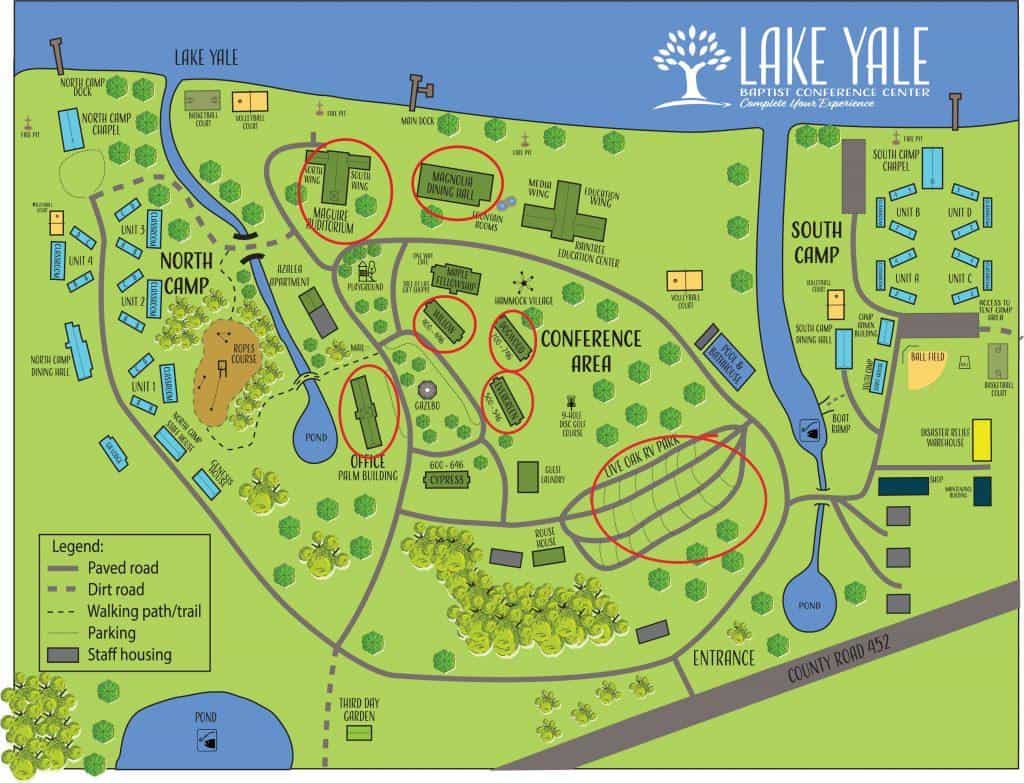 Maguire Auditorium.

Central Auditorium

Registration Desk
Vendor Booths
Evening Programs
Spinning Circle

North and South Wings

Thursday Mini Workshops
2.5 Day Workshops
Fiber Exhibit
Guild Tables

Magnolia Dining Hall

All meals are served in this hall.
Meals must be purchased in advance as part of registration and cannot be purchased onsite that day.
Meals are cafeteria style and served at set times.

Breakfast 7:30 – 8:30 am
Lunch 12:00 – 1:00 pm
Dinner 5:30 – 6:30 pm

Motel Rooms

Stop by the Registration Desk in Maguire first to get your room number and key
Dogwood
Evergreen
Palm
Willow

Live Oak RV Park

Stop by the LYBCC Office to get your site assignment and fill out paperwork.