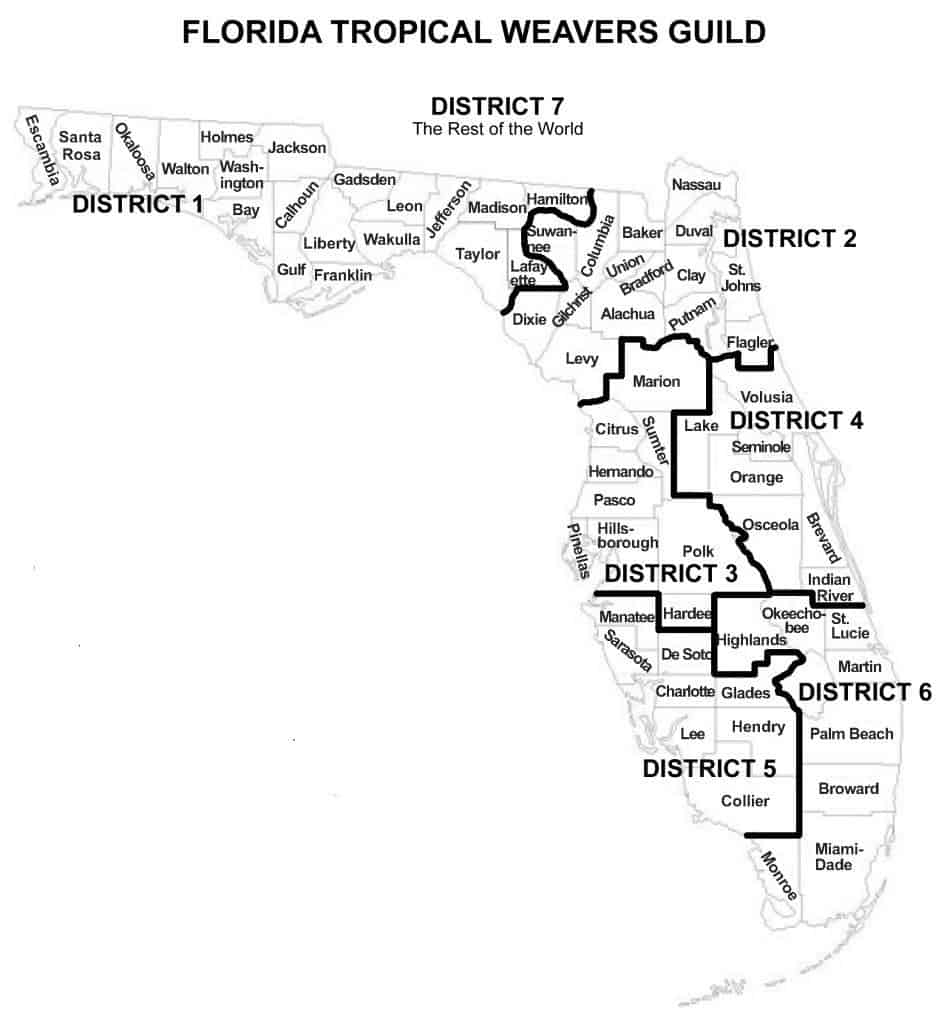 FTWG compiled this list of presenters available for Guild Programs and Workshops. Each instructor submitted their information for inclusion here and FTWG is merely providing a space for connecting the presenter with guilds. All communication regarding specific dates and details should occur directly between the presenter and the guild.
FTWG first provided this information in the summer of 2018. We would like to determine utilization of the list, as we may discontinue the service if the Guilds do not use it. Therefore, we ask that if you do use the list, please send a brief summary of which program/workshop was offered, to which guild, number of participants, and dates. Also give a brief review of how the program/workshop was received.
Changes, deletions, or additions to the list can be emailed to margaretegriffiths@me.com before October 15. Updates will be made by October 31.
This list is organized by District, so Guilds can estimate how far an instructor may need to travel. You can scroll down the page or click on a District in the following list to be taken directly to the list of Instructors in that District. The website only includes the name of the instructor, the program(s) they offer, and contact information. Full details regarding the programs are available by downloading the PDF brochure.
District 1
No instructors listed at this time.
District 2
Instructor: Sidsel Moreb
2806 NW 29th Street, Gainesville, FL 32605
Cell: 352 682 3255 (preferred), Home: 352 371 377
Email: sidselmoreb@gmail.com
Website: norskfjordfiber.com
Program(s) offered:
Tapestry Workshop: Beginning Tapestry Weaving
District 3
Instructor: Pam Pawl
727 Orange Ave, Dunedin, FL 34698
Cell: 215 483-7157
Email: pam@pampawltextiles.com
Website: pampawltextiles.com
Program(s) offered:
Weaving Workshop: The Great Plains
District 4
Instructor: Lois A Mittleman
1634 Ficus Point Drive, Melbourne, FL 32940
Cell: 321-795-0509
Email: loismmail@gmail.com
Website: www.papursuits.etsy.com
Program(s) offered:
Dyeing Workshop: Redding Method — What You Never Knew About Dyeing Wool
District 5
Instructor: Barbara Cabral
1000 Riverside Dr. B204 Palmetto, FL 34221
Cell: 419-341-6766
Email: Barb@CR-Studio.org
Website: CR-Studio.org
Program(s) Offered:
Other Crafts: Fun Techniques for Making Flip Flops
Weaving / Dyeing Lecture and Demonstration: Khmer Hol (Ikat) Textiles
Dyeing Workshop: Khmer Hol and Indigo Dye Basics
Animal Husbandry Lecture: Thai Golden Silk and the Care and Feeding of Silkworms
Instructor: Margarete Griffiths
722 Chipper Drive
Sun City, FL 33573
802-324-3805
email: margaretegriffiths@me.com
Program(s) offered:
Beautiful Hems for Handwovens
Instructor: Susan L. Hedge
1337 Barrett Road, North Fort Myers, Florida 33903
Cell 239-839-5574
Email: susanhedge@me.com
Website: www.weavingalife.com
Program(s) offered:
Weaving Workshop: Weaving a Life
Instructor: Roseline ( Rose) Young
5279 Stratford Ct. Cape Coral, FL 33904
Home: 239 540-5836 (preferred), Cell: 239 728-1390
Email: bryoung2@comcast.net
Website: www.RoseLineWeaving.webs.com
Program(s) offered:
Weaving Workshop: Art to Wear – Triangular Shawl
District 6
No instructors listed at this time.
District 7
Instructor: Joan S. Ruane
4255 E. River Rd, Tucson, AZ 85718
Cell: 520-335-4113
Email: spincotton@yahoo.com
Website: www.cottonspinning.com
Program(s) offered:
Spinning Workshop: The Love Affair of Cotton & Hemp
See her website for a complete list of workshops and lectures offered
Instructor: Deborah Silver
3087 E. Derbyshire Rd. Cleveland, OH 44118
Home: * 216-321-1417 Cell: 216-246-4158
Email: dss@deborahsilverstudio.com
Website: deborahsilverstudio.com
www.facebook.com/DeborahSilverStudio/
Program(s) offered:
Multi-harness Weaving Workshop: Split-Shed Beiderwand Weaving